Beaches and diving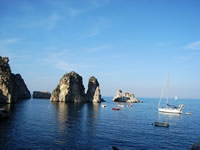 The "tonnara" and "faraglioni" are Scopello's most famous access to the sea: its beauty and uniqueness often made it not only the ideal destination for holidays in villas in Sicily, but also a scenography for a lot of film productions.
Guidaloca bay is less than three kilometres far from the first highway exit to Scopello.
This white-rocks beach is one of the most popular in the area, where you can find camp-sites and villas. A lot of coves can be found in the Scopello environs – such as Cala Mazzo di Sciacca, a free and sandy beach, beyond faraglioni, that can be reached through a tiny path from the main road; Cala Rossa, smaller and rocky, beyond Guidaloca bay, to be reached through a stair at the end of a small path; Cala Bianca, next to the first highway exit to Scopello, which actually is the side of a rocky mountain. You can find a lot of other wonderful beaches near Scopello in Zingaro Nature Reserve – the ideal destination for excursions in the wildlife of this protected area. San Vito lo Capo with its famous long, white-sand beach and crystal water is a little farther but worth the trip, you could also find someone the most exclusively
villas in Sicily on the beach
, and if you go there towards the end of September do not forget to visit the world-famous "cous cous fest".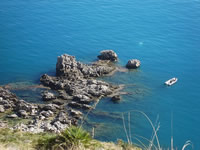 Lots of diving enthusiasts organize their holidays in Sicily saving some time to reach the tonnara and explore its seabed and caves nearby. Water, framed by faraglioni, is really clear and it won't be hard to see all sorts of fishes. In Scopello and its environs, diving clubs are available (
http://www.cetaria.com/
) and let enthusiasts explore the seabed of the tonnara and faraglioni with its treasures and the caves – some of them are among Sicily's largest ones.
These places are interesting both from a geological and historical point of view, since they bring evidences of the first human presence in the area. Santa Margherita cave is unapproachable from the earth, and still quite difficult to reach even from the sea. Pictures of sacred images realized upon a former painting depicting a shark, probably by experts, can be observed inside the cave.
credits photo: merci à Françoise